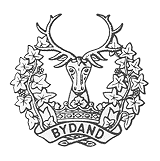 The War Diary of 2888211 Sgt. James Simpson Robertson
2nd Battalion Gordon Highlanders
The following pages give a detailed account of my father's war. He was a fine man, fiercely proud of being a Scot and fiercely proud of being a Gordon.
He would have been deeply saddened over the decision to disband the regiment, as it was his life for nearly six years.
The diary covers the period from January 1944 to June 1945. It is presented in the way my father wrote it.
James Wilson Robertson.
Burgess Hill,
West Sussex.
Extract from War Diary of Major Sinclair